Student Leadership- WE'RE HIRING!
Interested in being a SmartLandscape Co-Coordinator? Apply using the instructions below by 11:55 PM on Tuesday, May 17th to be considered!
Incoming 2nd and 3rd years wanted!
Are you interested in gaining hands-on leadership experience with irrigation technology, research and smart landscaping? The California Center for Urban Horticulture (CCUH) in partnership with the UC Davis Arboretum and Public Garden's Learning by Leading™ program is currently recruiting two co-coordinators for their SmartLandscape Team! The SmartLandscape team will focus on developing a SmartLawn landscape in urban environments, specifically centered at the Western Center for Agricultural Equipment facility. 
The two paid positions will allow students the opportunity to lead a team of fellow Learning by Leading™ interns in maintaining the SmartLandscape areas and learning about efficient irrigation technology and water conserving plant species. 
The Learning by Leading™ internship program offers students the unique opportunity to gain leadership skills and real-world experience in addressing some of earth's most important environmental issues. Through the program, students gain research and urban plant care experience, knowledge of cutting-edge irrigation technology, strong mentor relationships, and connection to a network of students, professors, and industry professionals dedicated to improving our campus' and the planet's environment. 
INSTRUCTIONS 
Send a cover letter and resume to CCUH Program Manager, Emily Finch ehfinch@ucdavis.edu 
QUESTIONS?
Contact CCUH Program Manager, Emily Finch ehfinch@ucdavis.edu
Position Title:
CCUH SmartLandscape Student Co-Coordinator (Student Assistant II, Paid)
Departmental Division:
California Center for Urban Horticulture
Job Function: 
Turf Management, Water Efficiency, Sustainable Horticulture, Irrigation Best Practices, Leadership, Development
Job Purpose: 
Under the general direction of the Program Manager of California Center for Urban Horticulture and the SmartLawn Learning TM program, Co-Coordinators will create, implement and manage design, research and implementation of the SmartLandscape initiative.
Job Description:
The California Center of Urban Horticulture (CCUH) in partnership with the UC Davis Arboretum and Public Garden's Learning by LeadingTM program is currently recruiting two Co-coordinators for their SmartLandscape Program.
CO-COORDINATOR POSITION DESCRIPTION
With the mentorship of CCUH's Program Manager and with fellow Co-coordinators, develop, implement and lead the SmartLandscape Internship using the Learning by Leading framework.

Lead collaborative planning and decision-making regarding development of SmartLandscape curriculum, activities, events, projects, and program evaluation.

Organize student Internship outreach, recruitment, selection, and community building activities.

Maintain communication between Interns, other departments and organizations, and CCUH. 

Document and organize program activities, data, timelines, schedules, action plans, and educational materials.
TIME REQUIREMENTS 
8-10 hours/week

Must be available Summer 2022

Must be available academic year 2022-2023
QUALIFICATIONS
Leadership skills to recruit, manage, teach and motivate student interns and volunteers.

Communication skills to effectively make decisions and solve problems independently.

Organizational skills to establish priorities and handle multiple tasks and deadlines. 

Ability to work independently without direct supervision to follow through on complex projects.

Interest or experience in landscaping, horticulture, irrigation and project management.

Willingness to work outside in hot or inclement weather.

Incoming 2nd and 3rd years are encouraged to apply.
JOB EXPECTATIONS
Exhibit strong professional ethics, communication, and accountability.

Lead by example and foster leadership and teamwork.

Willingness to go the extra mile to ensure program success. 

Understand complex relationships between individuals and organizations and the University and use good judgment in resolving misunderstandings on issues impacting the CCUH and the University.

Understand the importance of cultivating relationships within and outside of the organization to represent the CCUH with a high degree of professionalism and integrity; seek to accomplish goals with measurable results and empower others to do the same; create a vision of achievement.
Student Co-Coordinators are responsible for communicating with the Program Manager about the daily and long-term agendas, as well as leading their intern teammates through collaborative problem solving and hands on field activities. 

Many of SmartLandscape's Student Co-coordinators hold this position for a year or longer. The field and industry knowledge they acquire over this time makes them invaluable assets for the Student Interns. 
---
Meet our 2021-2022 Co-Coordinators!
What's New? This February 2022, our student co-coordinators presented two academic posters at the California Irrigation Institute in Sacramento, CA. See photos below.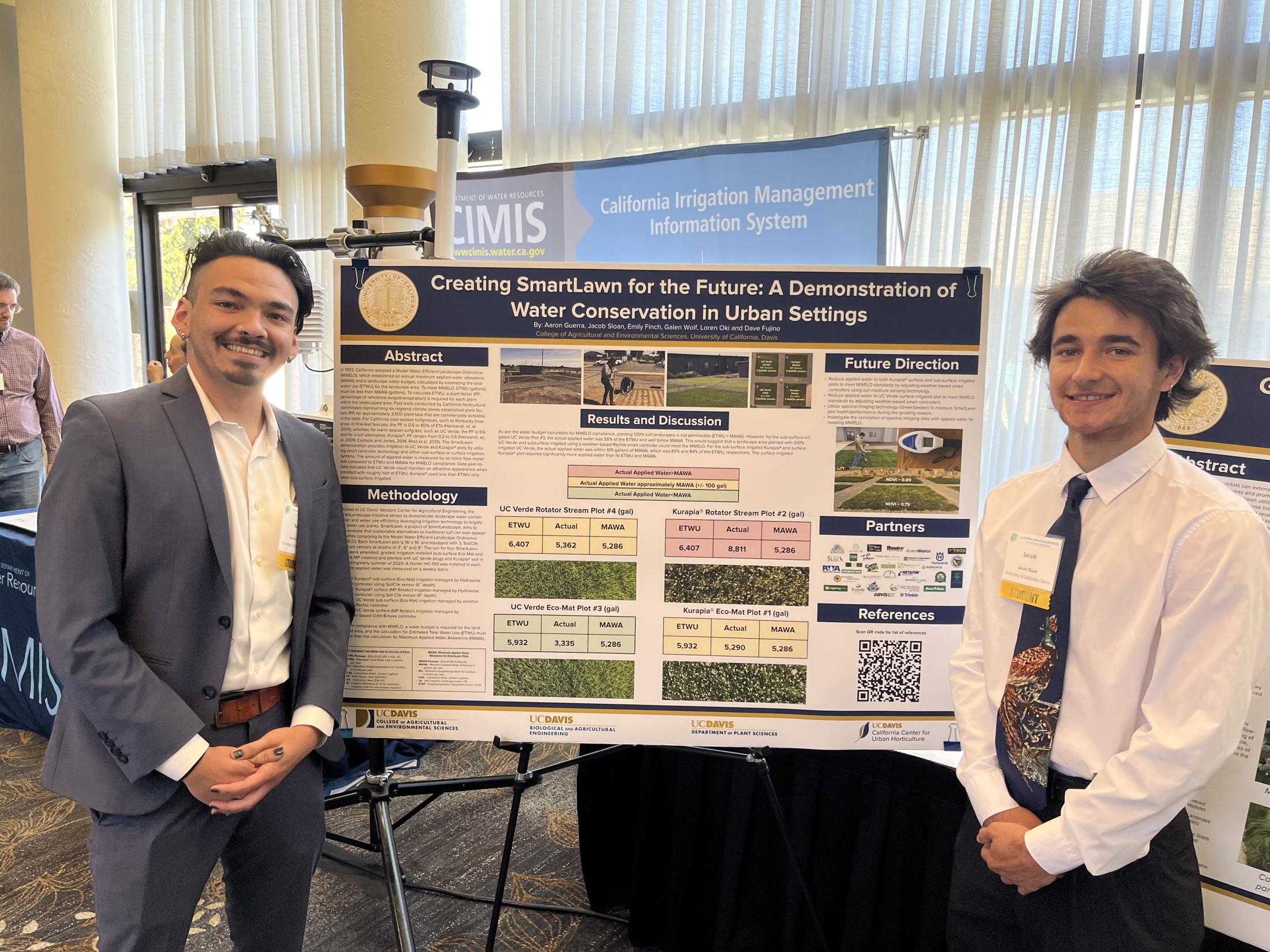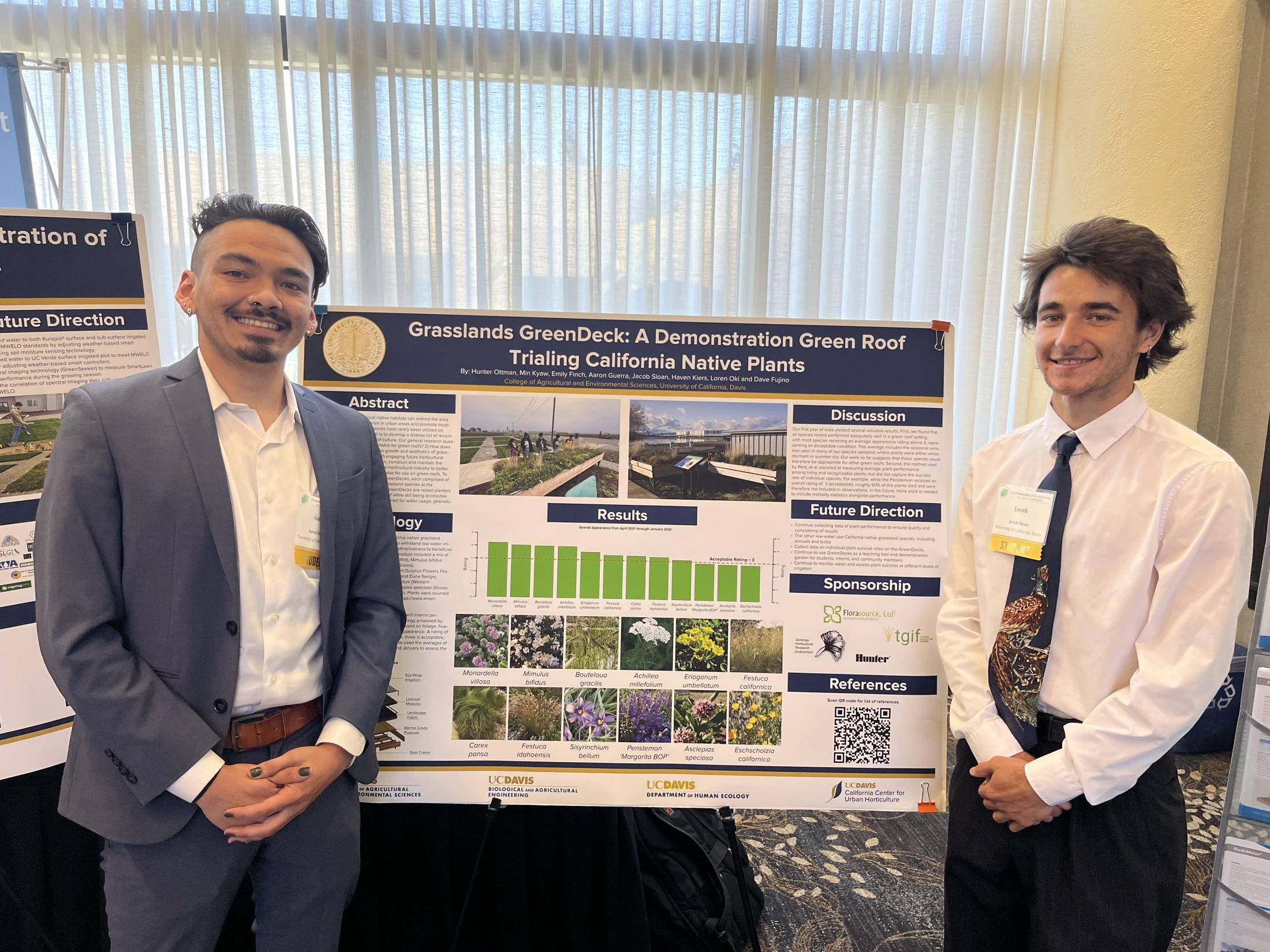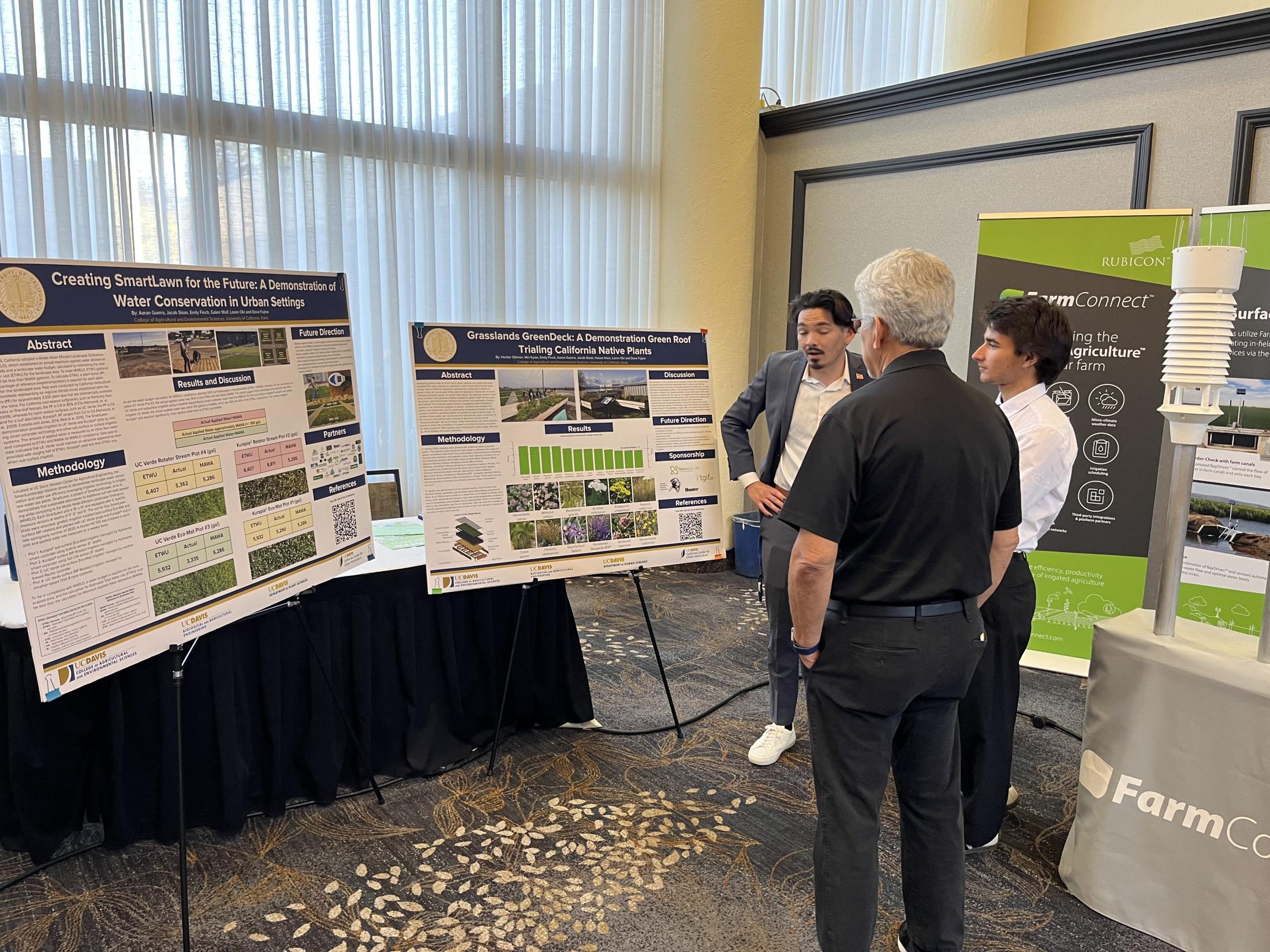 Visit this link for more information on the Student Co-coordinator position.