Integrated Pest Management Practices Manual
Light brown apple moth (Epiphyas postvittana), or LBAM, is an invasive pest from Australia that causes significant damage to a wide variety of crops.  Both the USDA and CDFA have designated LBAM as an actionable pest with enforced quarantine and eradication regulations.
In January 2009, federal and state agencies convened a working group to develop a systems approach manual with voluntary cultural and biosecurity guidelines. This committee was comprised of members from: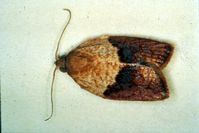 US Department of Agriculture/Animal and  Plant Health Inspection Service/Plant Protection and Quarantine (USDA/APHIS/ PPQ)

California Department of Food and Agriculture/ Plant Health and Pest Prevention Services (CDFA/PHPPS)

California Association of Nurseries and Garden Centers (CANGC)

University of California Cooperative Extension (UCCE)

California Center for Urban Horticulture (CCUH)

Nursery industry representatives
Download the free manual here.
The manual provides Best Management Practices (BMPs) for growers and shippers to aid in developing monitoring and action plans for minimizing the risk of LBAM introduction, establishment, and spread in nurseries. It is organized around six sections:
Risk assessment

Personnel training

Prevention and exclusion

Monitoring and scouting

Actions/treatments for infestations

Record keeping and management
It also includes an appendix with aids in LBAM identification, examples of monitoring plans, pesticide charts, and definitions. 
The Light Brown Apple Moth BMPs Manual was edited by California Association of Nurseries and Garden Centers (CANGC) Executive Vice President Robert Dolezal, and prepared for publication by CANGC.  Publication and distribution funded by USDA/APHIS/PPQ.